The winter holidays are upon us with the start of Hanukkah this year on December 10th; and as we, within our CSP Family, celebrate in a variety of ways the thoughts of how the holidays are honored vary based on culture. Let us explore just a few, granted in brevity, as most traditions are seeped in years of practice; handed down from generation to generation through story, food, and action.
Hanukkah, The Festival of Lights, is a celebration that dates back thousand of years. Although not a high holiday, Hanukkah is a joyous Jewish holiday that recalls an ancient miracle after a hard-fought victory over religious oppression. When the battle was won, by a small band of Jewish warriors led by Judah Maccabee, they set out to rededicate the Temple, which involved lighting a menorah. The original seven branched candelabra represents human wisdom, spreading divine inspiration throughout the world. Though they scoured the Temple, the warriors found only enough oil to burn for one night. Miraculously, it burned for eight nights, which gave them time to find more so they could keep the Temple holy. The nine branched menorah holds a symbolic meaning of the Hanukkah miracle; eight branches, one for each day the oil burned, and one branch for the "Shamash" (aka helper candle) used to light the other eight.
Today, Hanukkah celebrates that miracle and by extension, the triumph of light over darkness. Christmas traditions around the world are diverse, but share key themes of evergreens, light, and hope.
Sweden: Most people in Scandinavian countries honor St. Lucia (also know as St. Lucy) each year on December 13. The celebration of St. Lucia Day is considered the beginning of the Christmas season; and as such is often referred to as "little Yule."  Traditionally, the eldest daughter, in each family, dresses in a long white gown with a red sash and is adorned with a crown made of twigs that supports nine lighted candles. She rises early and awakens her family; the family then breakfasts in a room lighted only by candles. Later, families will come together for an evening parade through town illuminated only by candles and lighted torches.
Norway: Norway is the birthplace of the Yule Log. The ancient Norse used the Yule log in their celebration of the return of the sun at Winter Solstice. "Yule" is the Norse word hweol meaning wheel. The Norse believed the sun was a great wheel that traveled towards and from the earth. Today, the Yule log is burned to bring prosperity and health.
Germany: The tradition of decorating a tree comes from Germany. Decorating evergreen trees had always been part of German tradition. Most believe it began one star-filled night when religious professor Martin Luther, the 16th century Protestant Reformer, was walking home and was awed by the brilliance of the heavenly stars twinkling amidst the evergreens. To recapture the scene for his family and friends, he erected a tree in the main room and attached lighted candles to its branches. Christmas trees were brought to the United States by German settlers of Pennsylvania in the 1830s.
Mexico: In 1828, the U.S. Minister to Mexico, Joel R. Poinsett, brough a red and green plant (most considered a weed) from Mexico to his home. As the coloring seemed perfect for the holiday, the plants were then named poinsettias. Appearing in green houses as early as 1830; the first was not sold commercially until displayed in New York stores in 1870. By 1900, they were deemed a universal symbol of the holiday.
Christmas in Mexico is observed from December 12 to January 6. Traditionally decoration displays include Nativity scenes, poinsettias, and Christmas shoes. The season begins with celebrations related to the Virgin of Guadalupe, the Patroness of Mexico and is followed by traditions such as Las Posadas.Las Posadas celebrated chiefly in Latin America, Mexico, Guatemala, Cuba, Spain, and by Hispanics in the United States, is the telling of Mary and Joseph's journey and the Nativity story.
England: The traditions of Christmas cards can be traced back to England. Englishman, John Calcott Horsley helped to popularize the tradition by sending greeting cards featuring festive scenes and pre-written holiday greetings in the late 1830s. Newly efficient post offices in Great Britain and the United States made the cards nearly an over night success. Nearly the same time, similar cards were being made by R. H. Pease, the first American card maker, in Albany, New York; and by Louis Prang, a German immigrate to the U.S. in 1850.
Caroling, also, began in England where wandering musicians would travel from town to town visiting the homes of the wealthy. All in hopes to receive a hot meal or money for their performance.
France: In France, Christmas is called Noel. This comes from the French phrase Les bonnes Nouvelles, which means "the good news" and refers to the gospel.
Italy: Italians call Christmas Il Natale, meaning "the birthday." Family, food, and friends gathering is important in Italian celebrations. This allows the retelling of the most important part of the holiday for most Italians, the Nativity story. The story is shared in song, stories, performances, and decorative tableaus (a group of motionless figures representing a scene from a story or from history).
Australia: In Australia, the holiday comes in the middle of summer where it is not usual for some cities and towns to reach 100 degrees Fahrenheit on Christmas Day. During this warm season, many celebrations take to the outdoors and beaches with barbecues, bonfires, and gatherings of family and friends for shared meals and gift exchanges.
Ukraine: Ukrainians gather to prepare a tradition twelve-course meal. While preparations are underway, the family's youngest child is tasked with watching through the window for the evening star to appear. This star signals that the feast may begin.
Canada: Most Canadian Christmas traditions are similar to those practiced in the United States. Homes are decorated with evergreen trees, stockings are careful hung with the anticipation of the arrive of St. Nick (St. Nicholas, Santa Claus, etc. – See Sub-story on the history of St. Nicholas).In the far North, Canadian Native Tribes celebrate a winter festival called Sinck Tuck, which features celebrations of song, dance, storytelling, and gift exchanges.
Greece: In Greece, may people believe in kallikantzeri, goblins that appear to cause mischief during the 12 days of Christmas. Gifts are usually exchanged on January 1, St. Basil's Day.
Russia: In the days of the Soviet Union, Christmas was not celebrated very much. New Years was made into the important celebration. Following the revolution in 1917, Christmas was banned as a religious holiday in 1929 and Christmas trees were banned until 1935 when they became 'New Year Trees'. If Christmas was celebrated, it was done in secret just among family members.
After the collapse of the Soviet Union in 1991, people were free to celebrate Christmas, again; but it is still quieter and smaller than New Year celebrations. Christmas is normally celebrated on January 7 as the Russian Orthodox Church uses the old "Julian" calendar for religious celebrations. The Orthodox Church, also, celebrate Advent with fixed dates of November 28 to January 6, a 40-day celebration. The official Christmas and New Year holidays in Russia are from December 31 to January 10.
United States of America: In the U.S. we pull traditions that originated around the world and were brought here by the immigrates of those nations. From decorating with Christmas trees and poinsettias, to hanging stocking, caroling, sending cards, and creating Yule logs we have our own family traditions that ultimately honors the birth of the Christ child.
Kwanzaa: Kwanzaa is an annual celebration of African American culture that is held from December 26 to January 1, culminating in a communal feast called Karamu, usually held on the 6th day. It was created by Dr. Maulana Karenga, based on African harvest festival traditions from various parts of Africa, including West and Southeast Africa. Kwanzaa was first celebrated in 1966. According to Karenga, the name Kwanzaa derives from the Swahili phrase matunda ya kwanza, meaning "first fruits of the harvest". A more conventional translation would simply be "first fruits". Kwanzaa celebrates what its founder called the seven principles of Kwanzaa, or Nguzo Saba the seven principles of African Heritage. They were developed in 1965, a year before Kwanzaa itself. These seven principles comprise Kawaida, a Swahili word meaning "common". Each of the seven days of Kwanzaa is dedicated to one of the following principles, as follows:
Umoja (Unity): To strive for and to maintain unity in the family, community, nation, and race.
Kujichagulia (Self-Determination): To define and name ourselves, as well as to create and speak for ourselves.
Ujima (Collective Work and Responsibility): To build and maintain our community together and make our brothers' and sisters' problems our problems and to solve them together.
Ujamaa (Cooperative economics): To build and maintain our own stores, shops, and other businesses and to profit from them together.
Nia (Purpose): To make our collective vocation the building and developing of our community in order to restore our people to their traditional greatness.
Kuumba (Creativity): To do always as much as we can, in the way we can, in order to leave our community more beautiful and beneficial than we inherited it.
Imani (Faith): To believe with all our hearts in our people, our parents, our teachers, our leaders, and the righteousness and victory of our struggle.
Kwanzaa celebratory symbols include a mat (Mkeka) on which other symbols are placed: a Kinara (candle holder for seven candlesticks), Mishumaa Saba (seven candles), mazao (crops), Mahindi (corn), and a Kikombe cha Umoja (unity cup) for commemorating and giving shukrani (thanks).
THE MAN BEHIND THE STORY OF FATHER CHRISTMAS/SANTA CLAUS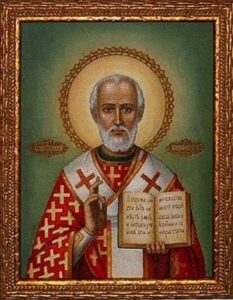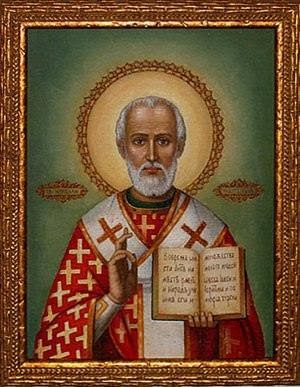 Image from the St. Nicholas Center 
St. Nicholas was a Bishop who lived in the fourth century, in a place called Myra in Asia Minor (now called Turkey). He was a wealthy man, having been left a fortune, in his youth when his parents passed.  He was also an exceedingly kind man and had a reputation for helping the poor and giving secret gifts to people in need.
Of course, there are several legends about St. Nicholas, although we do not know if any of them are true!
The most famous story about St. Nicholas tells the origins of the custom of hanging stocking.  Here is that story:
There was a poor man who had three daughters. The man was so poor that he did not have enough money for a dowry, so his daughters could not wed. (A dowry is a sum of money paid to the bridegroom by the bride's parents on the wedding day. This still happens in some countries, even today.) 
One night, Nicholas secretly dropped a bag of gold down the chimney and into the house; thus, meaning a dowry for the eldest daughter could be paid and she would marry.  The bag fell into a stocking that had been hung by the fire to dry! This was repeated later with the second daughter. 
Finally, determined to discover the person who had given him the money, the father secretly hid by the fire every evening until he caught Nicholas dropping in a bag of gold. Nicholas begged the man to not tell anyone what he had done, because he did not want to bring attention to himself. But soon the news got out and when anyone received a secret gift, it was thought that maybe it was from Nicholas.
Because of his kindness Nicholas was made a Saint. St. Nicholas is not only the saint of children but also of sailors! One story tells of him helping some sailors that were caught in a bad storm off the coast of Turkey. The storm was raging around them and all the men were terrified that their ship would sink beneath the giant waves. They prayed to St. Nicholas to help them. Suddenly, he was
standing on the deck before them. He ordered the sea to be calm, the storm died away, and they were able to sail their ship safely to port.
St. Nicholas was exiled from Myra and later put in prison during the persecution of Christians by the Emperor Diocletian. No one is positive as to when he died, but it was on 6th December in either 345 or 352. In 1087, his bones were stolen from Turkey by some Italian merchant sailors. The bones are now kept in the Church named after him in the Italian port of Bari. On St. Nicholas Day, December 6, the sailors of Bari still carry his statue from the Cathedral out to sea, so that he can bless the waters and so give them safe voyages throughout the year.
HOW ST. NICHOLAS BECAME SANTA CLAUS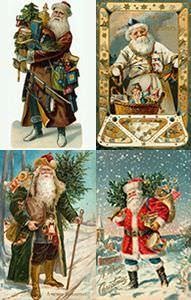 Santa in different color outfits, as told around the world.
In the 16th Century in northern Europe, after the Reformation, the stories and traditions about St. Nicholas became unpopular.
However, someone had to deliver presents to children at Christmas, so in the United Kingdom, particularly in England, he became 'Father Christmas' or 'Old Man Christmas'; an old character from story and plays during the middle ages in the United Kingdom and various parts of northern Europe.
In France, he was then known as 'Père Nöel'.
In some countries, including parts of Austria and Germany, the present giver became the 'Christkind' a golden-haired baby, with wings, who symbolizes the new-born baby Jesus.
In the early settling of American, his name was 'Kris Kringle' (from the Christkind). Later, Dutch settlers in the United States brought with them the old stories of St. Nicholas and Kris Kringle and St. Nicholas became 'Sinterklaas' or as we now say 'Santa Claus'.
Many countries, especially ones in Europe, celebrate St. Nicholas' Day on December 6.   In The Netherlands and some other European Countries, children leave clogs or shoes out on December 5th (St. Nicholas Eve) to be filled with presents. They also believe that if they leave some hay and carrots in their shoes for Sinterklaas's horse, they will be left some sweets.
St. Nicholas became popular again in the Victorian era when writers, poets and artists rediscovered the old stories.
In 1823 the famous poem 'A Visit from St. Nicholas' or 'T'was the Night before Christmas', was published. Dr Clement Clarke Moore later claimed that he had written it for his children. (Some scholars now believe that it was written by Henry Livingston, Jr., who was a distant relative of Dr. Moore's wife.)
The poem describes St. Nicholas with eight reindeer and gives them their names. The names of the eight reindeers became well known in the song 'Rudolph the Red nosed Reindeer', written in 1949.  "Rudolph, the Red-Nosed Reindeer" is a song by songwriter Johnny Marks based on the 1939 story Rudolph the Red-Nosed Reindeer published by the Montgomery Ward Company.  Gene Autry's Grammy Award winning recording hit No. 1 on the U.S. charts the week of Christmas 1949.
In 2020, we know that celebrations will be different, and that great gatherings of family and friends will be curtailed for the season. So, maybe this year (2020) is the year that a new tradition is created by you to be shared within your pod and via internet video chat connections.
Or perhaps this is the year that you teach the younger generation Bubbie's latkes and/or sufganiyot recipe; you share the secret of Aunt Sally's stuffing; or how to recreate Granny's apple pie. However, you choose to celebrate and honor your traditions this year, everyone at CSP wishes you the Happiest of Holidays and a Bright and Prosperous 2021!