So you've decided to organize a live event. Now what? Before you go with the norm, check out these ideas for leveling it up. 
#1 Create a Solid Schedule
Nail down your schedule and lineup to be respectful of your attendees' time. You likely already have some ideas out of the gate, which will be your starting point. From there, ask yourself a few questions and start outlining your schedule:
What is my goal for this event?

What questions can we ask attendees to unlock collective wisdom?

What are the most important takeaways attendees should have?

For conferences and workshops, what will be covered in each presentation or session? How can we best engage the attendees?
What will give my event the 'wow!' factor? Will it be a keynote speaker, fun & lively vibe, slick technology that captures attention?

Will there be 'star' appeal? A celebrity? A noted industry expert?

Which presentations or sessions will be considered 'premiere?'
#2 Go Live + Virtual
Virtual is here to stay in the 'new normal' shaped by the coronavirus. As more live events return, they'll be a combination of both in-person and virtual experiences (hybrid events). 
Hybrid events are perfect for gatherings such as meetings, trade shows, conferences, sales kick-offs, and town halls. Offering an additional virtual experience for your live event has many benefits:
They're a great solution when a venue has capacity limitations and not all who want to attend can. 

It's an option for those who have health/safety concerns about traveling or attending an event.

If someone has a limited travel budget or the schedule won't allow for in-person attendance, they can "attend virtually" instead.
#3 Make it Easy to Create Social Content
Inspiring your event attendees to create and share content is a great way to generate buzz.
For on-site, it's all about creating spaces that are naturally photogenic. You want to prompt people to take selfies, group photos, videos, etc., then share them on social media. Here are some ideas to engage your attendees:
A GIF booth is a popular choice. A burst of 3-4 photos is taken and looped to create a fun, highly shareable GIF. 

Mobile photo booths (i.e., a colorful vehicle or custom backdrop with fun props) are also quite popular. Photo props or giant picture frames can accent these. Virtual photo booths that include Boomerang effects, social media posting, and the ability to text or email the images are also popular. These include "digital props" superimposed with a custom digital frame.

Balloon walls and sculptures are a colorful and fun way to create a photo-op area at your event.
For the virtual aspect of your event, all that's needed is a few prompts such as:
An event hashtag

Geotagging your event area 

A way for people to participate in a contest/scavenger hunt/game

Free digital badges/certificates

Promoting your free/for sale merchandise
#4 Up Your Technology Game
Sure, you can dim the lights in a room and turn on a simple display or presentation. But it's so basic. Hiring experts in lighting, audio/visual, special effects, and thematic design can transform your event environment from average to extraordinary. At CSP Worldwide, for example, we can level up your event with extras such as:
Acoustically Superior Sound

Vibrant Stage Illumination

LED Walls

Laser Light Shows / Custom Logo Projections

Remote Sparklers / Pyrotechnic Displays

Water Screens

And much more!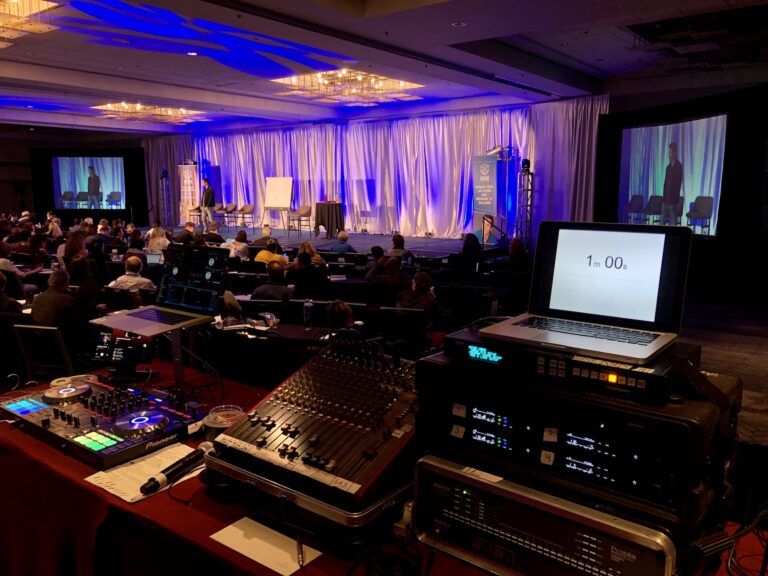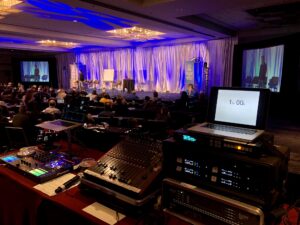 #5 Bring the Entertainment
Entertain your guests with a musical, comedic, or magic performance, treat them to a show with dancers/performers, or get the party started with an interactive emcee and specialty DJ. Make it fun!
For experiences that your attendees won't soon forget, CSP Worldwide is a full-service event production company that can handle your live, virtual, and hybrid event needs. After 14 months of COVID shut downs of life events, we're excited that this May 2021 already brought CSP to Austin TX, Fresno, CA, Milwaukee, WI and Chicago, IL. 
With over 40 years of experience, we're ready to take on your unique requirements and bridge the gap between in-person and digital events. Schedule a complimentary consultation today to see how we can make your dream event come to life!